INUNDATED!!!!
Heh heh heh.. been wanting to use that word.. and yaaay.. got to use it at last!!
yeah learnt this word from
Anson
some many moons ago.. showed me that my vocab was weak
INUNDATED!!!.. and no.. it's not about dating a member of the clergy.. God Forbid
(I-Nun-Dated) .. sorry corny joke..
This is the definition of
Inundated
in·un·date
( P )
Pronunciation Key
(nn-dt, nn-)tr.v. in·un·dat·ed, in·un·dat·ing, in·un·dates
To cover with water, especially floodwaters.
To overwhelm as if with a flood; swamp: The theater was inundated with requests for tickets.
Anyways, Why the fascination with inundated?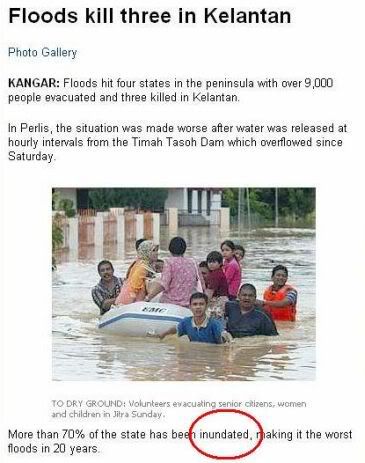 Click Here to Read more on the picture
Well, back home... my house is flooded.. my parents are still tehre.. sadly, I will only be reaching my hometown on 23rd December.. might not be able to capture any pictures of the flood...
Yeah... my house is now flooded.. with 14 inches of water.. about 4 inches to reach the TV base.. (on a stand) after 4-5 days of continuous rain.
to give you an idea.. of what's happening.. look at this picture.. measured against the showcase in my house..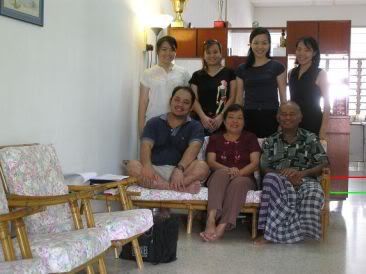 Green Denotes the deepest flood we've had in this house.. 1982 - 1986 ( you can see a faint line on the showcase to denote the deepest in 1982/1986)
Red is for where it is right now. . (approximately)
There is no electricity, because the main power station's power is down.. and my dad's handphone is running low on battery..
So do pray for the water levels to receed.. it's gone down an inch.. because the sun is out today..
*note.. picture was taken 1 year ago.. when a bevy of beauties visited my dear hometown.. wonder if mom was thinking if I was bringing suitors for me ;P he he he.. unfortunately.. nothing happened.. heh heh heh.. Just Kidding..
Back row (L-R) , Rina, *forgot her name*, CoolCat, MF
Front row (L-R), PaulOS, Mom & Dad)
NEWS FLASH : FLOOD UPDATE!! 20/12/05 @11:15am
No it's not a Flash Flood. ;P, the water has receeded in the house to about 8.5 inches.. btw.. if it's 8.5 inches in the house.. it's about 1 foot outside the house.
Praise God for that the water is receeding, as opposed to what you hear in the news. Electricity has been restored too.
Thank you all for praying.
Labels: A matter of Fact