The Summoning!
Yeah... I have been Summoned!
Well nothing really heavenly happened. I was summoned by the police. Or in a similar Malaysian term "Kena Saman". Here's proof of my first ever Police Summons. Dunno if Mum and Dad will ever see this ... Ha! Ha!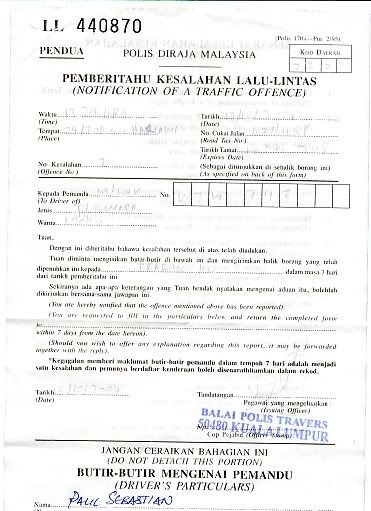 * I cut off the lart part of the Driver's Particulars so that ppl won't see my details lar. *
How'd it happen? Well, my colleagues and I went to Sri Hartamas for lunch cum Christmas Costume hunting expedition.
Sri Hartamas is notorious for it's lack of parking spots. I drove round the same area for about 8 times and almost got knocked by a huge lorry who didn't see where he was reversing. I prayed for a parking spot but still none appeared. This did not however douse my faith. Needless to say it was a tough time finding a parking spot since everyone there was double parked and triple parked (*exagerated*)!!. So I dropped my colleagues off at Spicy Kitchen (not that far from Uncle Don's) and proceeded to look for a parking spot.
But to my dismay, could not find a spot. It was about 15 minutes already looking for a parking spot. I am usually quite a stickler for rules i.e. I will look for a parking spot even if it takes a long time. But I didn't want my colleagues to wait for me for lunch so when I saw a non-dangerous spot but was marked as yellowline just outside opposite Finnigan's. So I parked there next to some construction just outside Finnigan's and RHB Bank.
Well, I left my car there and had a nice lunch at Spicy Kitchen.
As we were walking towards the Costume Shop, I saw a couple of men in uniform writing out a summons at my car. I walked hesistantly to my car, but Alas, I was too late, they'd already issued.
What's funny is that the policeman name "Muadzar" said something. He looked like a fair-skinned-Indian moslem and I think some gals would say "
He's cute
". Well he said, "
You should've come a little earlier and I could've cancelled the summons. Next time put a note to say that you've gone for lunch.
"
Quite peculiar right?
He went on to say "
Go and write a letter of appeal to get your summons reduced. Go to any police station and submit this summons and appeal.
"
But what's nice is that my colleague offered to pay part of the summons. I think I'll gladly accept the offer. :)
*Thank you very much Mandy*
Well, that's the adventure for the day.
We got to see our costumes at
Century Fiesta Sdn Bhd
and found out that we can only book them only in the beginning of November. What costumes you may ask well it's for Christmas. No points for guessing what I'll be dressed up as. My colleague would be dressed up as Santa Rina. Hope to have pictures of that at the end of the year.