It's Beginning To Look A Lot Like Christmas!
Yeah, It's beginning to look a lot like Christmas!
Christmas time is indeed a very busy time for all Christian and Non-Christians.
For me, Christmas has changed in it's meaning over the years.
Clearly
I remember when I was younger (The single-digit-years thru the Teen Years or better known as the Wonderyears)
It was the "Open-House" concept..
It was fun when the people visited, but it wasn't fun having to run in and out of the house greeting people, washing the plates etc etc.
The Christmas spread was
1. Coconut Candy
2. Muruku's
3. Fruit Cake (soaked in Brandy/Rum since October)
4. Iddiappam (Stringhoppers, Puttu Mayam or as we call it at home "Thunderbread")
5. Thosai
6. Chapati
7. Mutton Curry
8. Sardine Curry
9. Chicken Curry
10. Accar (Cucumber & Carrots boiled in vinegar and sugar, squeezed dry & Sprinkled with peanuts)
*Stringhoppers*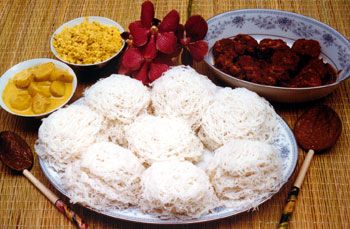 It was particularly fun through those years because of my brother's friends. Most memorable of them all was Sri, my brother's 6' 4" friend. Honestly, I looked up to him more than my brother. He was the life of the party and he was cool.
After my brother left for further studies, (i.e. through my teenage years), it wasn't very memorable because I didn't have many friends who were as crazy as my brother's friends.
Man!!! Those were the days.
We don't have open-house anymore, coz it's hectic. Mom and dad would get tired quite easily nowadays coz of the number of people coming in and out even though they don't have to do anything except cook. Plus we don't really get to appreciate the Christmas day.
During
my college years, I was involved in my church and community in Setapak. Christmas meant Carolling a week before Christmas. Children's Christmas parties. And I'd travel back to my hometown for Christmas with my family celebrating it with a few close family friends.
Of course there was also that "sweetheart" to look forward to meet whenever I went back. I'd spend time with her younger brother and her family even though she gave me the cold shoulder treatment. *Yeap "clapped single-handedly"*
Those were fun years, when i rounded up the youths and we had spontaneous Christmas Carolling.
The Uni Years
were different in nature. Though I came back each year for Christmas, it was quietly spent with my mom, dad, bro and his wife.
It was fun celebrating it in Ipoh or KL. No carolling whatsoever, just quiet Christmases with the family.
Now,
we're going through a period of transition. We celebrate Christmas with more meaning. A year or 2 ago, we had worship together as a family on Christmas morning. Was a wonderful experience. This year, I am spending Christmas without mom and dad. I will be in KL on Christmas day, well sort of by choice.
My ex-cell leader's wedding is on the 25th of December. I agreed to worship lead at the wedding after my parents agreed to celebrate Christmas in KL. However about 3 weeks ago my parents decided not to celebrate Christmas in KL. So here I am stuck in KL for Christmas.
Will be flying back on the 26th Morning via
Air Asia
. I hope I don't miss my flight like last year. ha ha!
PauLOS Blogging Off!