Another Singapore Roadtrip!!
Chris and I have been planning this trip for a few weeks now, and at last I'm here! In Singapore, to see Gabe before he leaves for further studies in UK.
So, after work on Friday, I packed my bags and drove to Chris' (SurfGod) place. We had earlier arranged to leave at 2am. But we changed our plans to leave at 4pm. So SurfGod, Luke (surfgod's bro) and I tried to sleep at 11pm. I couldn't sleep very well, I don't know why, I prayed to sleep and prayed for my cell members etc etc.. and I still could not sleep until about 1230am. I got up at 330 am and woke the boyz up and left at 4pm promptly.
I drove from Setapak till after the Sg Besi toll, and then I let SurfGod take over, not before stopping at the Mobil station to get some snacks. ha ha ha... He drove all along the highway till Ayer Keroh. We made good time, approximately 1 hour 10 min from Sg Besi toll to Ayer Keroh R&R. Then after a "pit stop" Luke took over the wheels. He drove all the way till the Esso before the Immigration point. Ha ha ha .. so I literally was driven all the way along the highway. We reached the Immigration at about 750pm. After clearing Immigration on both sides (we had to get a new Autopass for my car).. we only reached Gabe's place at 840am, dumped our stuff in his house.. and then we went for breakfast at this place near Bukit Timah, had some Nasi Lemak and Roti Canai.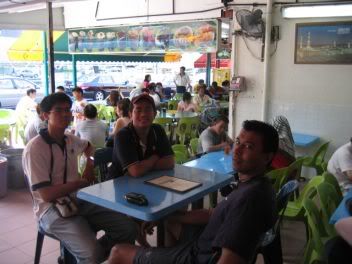 We then went back to Gabe's place to chill and "leech" of his neighbour's wireless network.
Then .. we again.. went out to Sim Lim to get Luke's Nintendo DS sorted out. It had a "lazy" pixel. .. so in short it was a defect. So we went to get it replaced at Sim Lim Square, but we were directed to go to Middle Road (about 5 min walk) to see the distributor at Fortune Square/Plaza. We trudged along and reached the place and found the office. Got the Nintendo DS replaced, but what was funny was this.. the gal (office administrator-sales person) told us to go to the Computer Fest in Suntec City. She said "Go there lah, got pretty promoter girls with short skirts there!".. I must say that I was shocked. This is one lady speaking about her own gender. Man... she thought we were "cheap"...
But Gabe and I joked "These 2 (SurfGod & Luke) are computer geeks, give them a choice between girls and computer stuff.. they'll choose computer stuff!" ha ha ha ha..
To me.. I think it wasn't something really good for one lady to be speaking about her gender in that manner.
Anyways, we left and walked back to my car parked at Sim Lim Tower.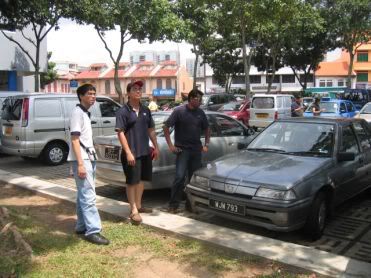 *Check out.. my first long haul trip with Zeph (trusty grey steed) into Singapore*
*to be continued*
Labels: Roadtrips