Za Klismas Party
My company had a Christmas Party last Friday, 17th December (incidentally
Joanne's
birthday)
So yah, we all had a fun time playing games, singing carols, acting out a skit and exchanging gifts. A great Christmas party I must say. We all had fun.
Yours truly was the Santa Claus. Check out the picture below.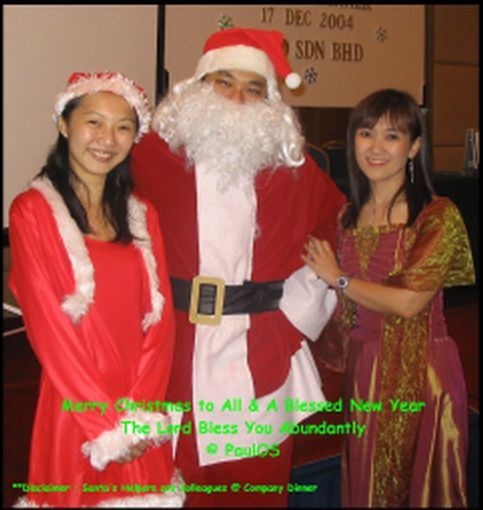 Anyways, the 2 ladies next to me are
Mandy
and Cindy. Mandy's my colleague while Cindy's our HR and Admin Manager.
So there was Santa PaulOS, Santa Mandy and Santa Cindy (well she came dressed as Cinderella/Cindy-rella)
So here's a blog before Christmas have a great weekend celebrating Christmas everyone. God Bless!
May the significance of Christmas seep deep into your hearts and your minds and hence nourish the roots of your spirit. Be Extremely Blessed!
Ho Ho Ho.. Jingle All The Way!