The Gig Is On!!
Uh huh.. The Gig Is On Baby!!
Yeah.. 18th June, the long awaited Gig.. i mean Wedding for Sekhar and Siew Ann is gonna happen.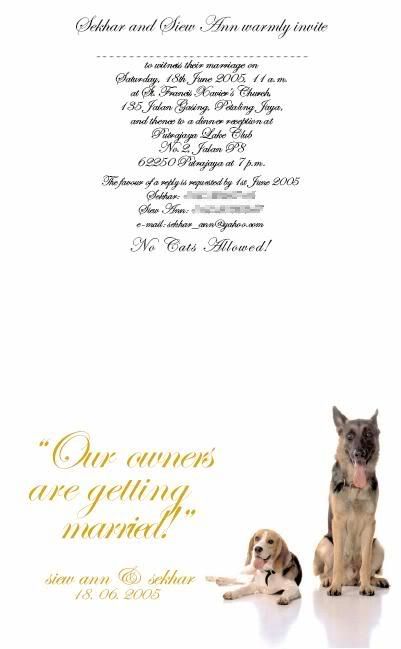 We're excited to play at this wedding man. But suddenly, I'm also scared. There are a couple of songs that we've not got down to pad. So we're actually gonna wing it.
I had the final list of songs with me, but it's at home.. I'll post it up later.
We're tentatively playing 4 sets with 2 songs by the groom's brother and cousin.
The groom will be playing keyboards for those 2 songs.
"You're the Inspiration" & "When You Tell Me That You Love Me"
The studio-jam pictures are being sent to me just as I blog by our faithful "groupie" Adie, beautiful, demure and faithful wife to Chris McKhoo.
A list of the gigs Chris and I have played at are:
Chris & Adie's wedding - September 2000, Holiday Villa Subang
Kieran & Audrey's wedding - 2001, JW Marriot
Colin & Amy - 2002 - East In Hotel
Mike & Anita - 2003 - KL Mutiara
Kerry & Mike - February 2004 - Good Shepherd Hall, Setapak Church
Christian Music Festival - September 2004 - Loyola Hall, SFX Church
Coming Soon :
Sekhar & Siew Ann - June 2005, Putrajaya Lake Club
Terrence & ?? - August 2005
I hope I can find pictures from all those gigs.
*More to add to this blog when the pictures and final gig list comes in*
Band Line Up :
Lead Vocals & Rhythm Guitar : Chris "Strings" McKhoo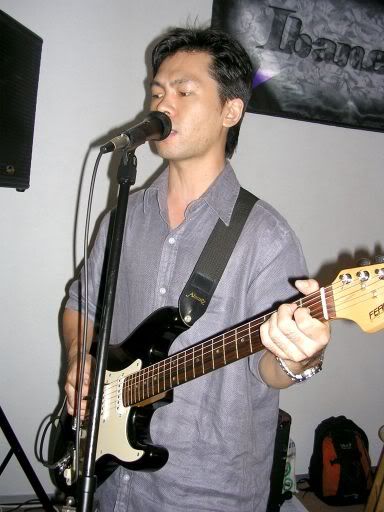 Lead Guitars & Silent Vocals : Matthew "Vai" Fang
Drums & Backing Vocals : Steve "RimShot" Lai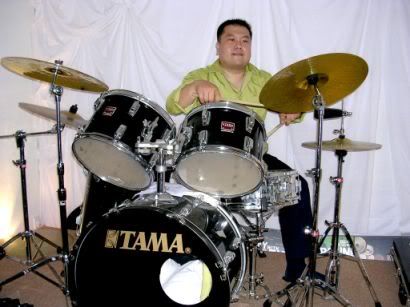 Bass & Backing Vocals : Paulie "PhatFingers" Sebastian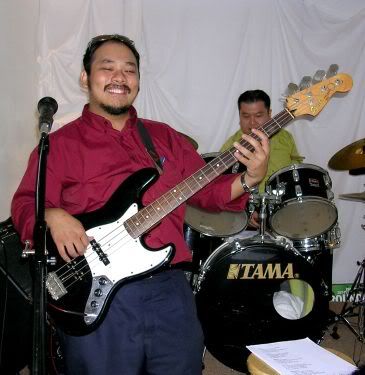 Special Appearance :
Saxaphone : Derrick "BrokenWrist" Choong
Vocals : Shanker Subramaniam & Cousin (forgot her name)
Keyboards : Sekhar "One Practice" Subramaniam
Oh yah.. forgot to mention.. it's gonna be an outdoor event, so we're stripping down to our trunks and goggles.. hi hi hi.. just kidding. We're going with the Hawaaian Theme, as Chris said.. the "Hoola Boys"...
The Gig List
Set 1
Islands In The Stream - Bee Gees
Ready For Love - Bad Company
Love Will Keep Us Together - Captain & Tennile
Times Like These - The Foo Fighters
Set 2
Every Breath You Take - The Police (Sting)
Message In A Bottle - The Police (Sting)
You're The Inspiration - Chicago
When You Tell Me That You Love Me - Donna Summer
Set 3
Bright Lights - MatchBox 20
Are You Gonna Go My Way - Lenny Kravitz
Stuck On You - Lionel Ritchie
Seven Nation Army - White Stripes
Set 4
Love Will Keep Us Alive - The Eagles (Don Henley)
Crazy Little Thing Called Love - Queen
Rock n Roll Medley (Speedy Gonzales, Runaway, Oh Carol)
Long Train Running - The Doobie Brothers
Stand By
With Or Without You - U2
Who Can It Be Now - Men At Work
How Deep Is Your Love - Bee Gees
Have You Ever Seen The Rain - CCR (Creedence Clearwater Revival)
What do you all think?
Labels: Vertigo